Wellness Community Centre
SAATHI
About
SAATHI is a proactive platform for self-growth and well-being of the students. The SAATHI team focusses on pro-active measures that raise awareness in the campus about various relevant issues, and plan several informal gatherings, lectures, and sessions open to all.
v Team Members:
· SAATHI Advisor
· SAATHI Student Body
v Programs
· The academic buddy platform
· Freshie Quiz Zero etc.
· Upcoming programs
v Contact:
MITR
About
MITR is an institute body of Students and faculty, which offers emotional and other forms of support to students which could be required at some point in their journey in this campus, making sure that no one in the campus is left unattended to in their times of emotional distress.
v Team Members
· MITR Advisors
· MITR Core Student
· MITR Volunteers
v Services
· Counselling Connect
· Collaboration
v Contact:
Wellness Centre
About
Wellness Centre, IITM is a body of mental health professionals. A group of licensed mental health professional offers therapeutic guidance to the students for their holistic development. The therapists help the students in their personal development such as time management, communication skills, poor self-esteem, improving self-confidence, assertiveness skills) as well as helps them in unravelling riddles of life such as taking decisions, dealing with depression.
A few typical concerns are –
· Adjustment to the new environment
· Decision making about career and life
· Dealing with various stress, anxiety, and depression
· Conflicts in different interpersonal relationships (friends, romantic partner, professional relationship)
· Lack of motivation
· Others
v Team Members
· Clinical psychologists (Contact details)
· Counsellors (Contact details)
· Office Assistant (Contact details)
· Curator (Contact details)
v Services
· Counselling and psychotherapy (need to elaborate)
· Coordination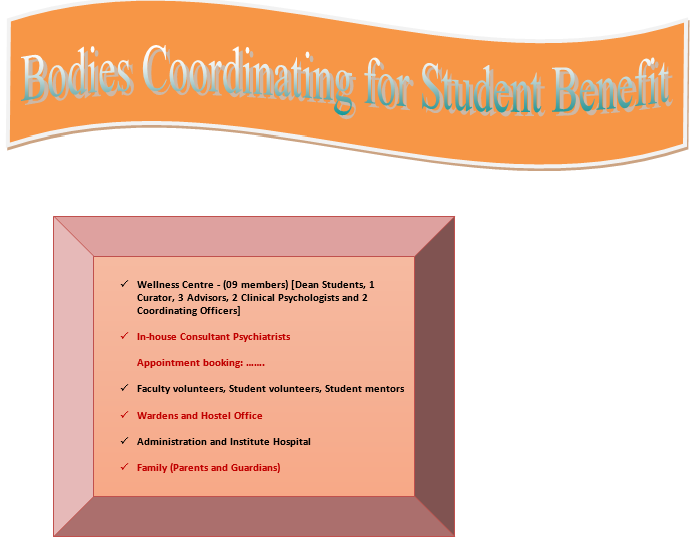 Group Therapy (we have to display the application form, consent form and testimonials)
· Peer Support Groups (also known as self-help groups) are held at IITM from time to time, wherein, groups of people (maximum of 12 per group) get together in order to share their experiences associated with a particular problem, condition or personal circumstance, such that they learn, and gain useful insights, from each other and realize that they are after all not alone in their journeys. These groups are led by the in-house mental health professionals/trained facilitators. "Confidentiality" is given top priority. Approximately 8-10 sessions (1 session per week, on average) would be conducted for one support group. Before the first session, the participants (as well as facilitators) would require to duly sign a Consent Form, which you may please find within the application form below:
· Training (need to elaborate)
v Contact:
· All sessions taken by the therapist are confidential unless it holds a threat to the client or others or to the society.
External Counselling Agencies:
IIT Madras has collaborated with external counselling agencies for student benefits. Students can opt both online and face to face counselling with these agencies.
· YourDost (Contact details)
· Xyz…
Blog
· Time management
· Stress management
· Relationship etc.
Peer Support Group (PSG) Application Form:-
1. Name (if unwilling to provide, please mention a pen-name)
*mandatory field*
2. Phone Number *mandatory field*
3. Email ID (optional)
4. Reason(s) for interest taken to join the PSG *mandatory field*
5. Themes you would like to be addressed in the PSG*mandatory field*
6. Please fill out and sign (scanned) the Consent Form *mandatory field*
Note 1
Once you have submitted your application, it may take a while until we get back to you, as we would require at least 05 members to create a PSG.
Note 2
A WhatsApp group will be created, once the PSG has been formed, so that communications regarding the finalized themes for the sessions and other important details, could be sent across.
Note 3
Session 0 will be the Inaugural session, wherein, the members will get introduced to each other and the facilitator would reiterate the content of the Consent Form, for clarity and commitment to unfold. Due to the COVID situation, all sessions would take place through the online mode.